The last installment of the Ren Faire 2005 Collection consisted of two autumn nymphs.
Lady Wyntir and Lady Autmn: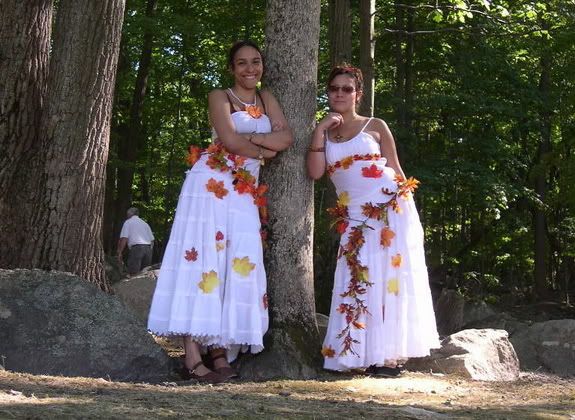 These two costumes were fun to make. I picked up two broomstick skirts and two tank tops. Then at
Michael's
, i had my pick of Autumn foilage. Those garlands that were on sale caught my attention and several leaves and things went into my shopping cart.
Here's a close up of what i did for Lady Autumn:
back -
front -
I wish i had two tanks with the braided straps. That shirt was much more elegant than the silly one i wore. I also liked the border with the leaves. I machine sewed those leaves on, as it seemed easier to make a straight line instead of just doing it one by one.
All loose leaves were hand sewn. I didn't have a set pattern to placing the leaves, i just tried to make sure they were evenly distributed.
That's all for now. I'm still working on my Kawachi chef's coat for the hubby, but i need more fabric, time, and a better mandarin collar pattern >_<. Halloween is also coming up. That's a surprise, though. hee hee hee.
`wyn